This is our own framework for helping people improve their digital marketing performance. We want to help simplify management and at the same time recognise that it's ultimately about using best practice web analytics techniques to drive commercial value from digital marketing.
Emarkable offers:
A more customer-focused online business:
Create an online business that is truly customer-centric; that speaks the customer's language, not the organisation's language.
Manage with facts, not opinions:
No more endless debates about what should and shouldn't be on your website. You get hard, defensible, compelling data that shows exactly what your customers want–and don't want.
A simpler digital platform:
Create an effective digital platform that focuses on exactly what your customers care most about.
Framework
Focus on the critical KPI's and improve performance by narrowing focus right down to those essential areas, at the same time make sure that you're not getting distracted with detail.
Sure, there are a lot of boxes that need to be ticked in relation to Digital Marketing but we all have limited resources and budgets. The reason we have formulated this framework is to allow organisations of all sizes to consider the items that are important but to only focus on these essential areas.
'Websites don't work' was an expression we used 10 years ago, and you know, it is still the same. Since 2000 we have worked with over 600 clients to improve their business using digital marketing and we have learned that when the focus is solely on 'building the website' that success rarely follows.
Click image on right to enlarge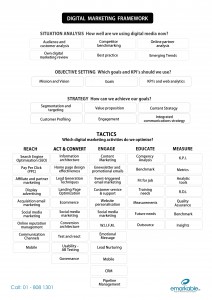 This Framework Model can be utilised in a number of ways:
DIY
Take the information and fire away – Ideally suited to companies with inhouse resources.
Workshop
We can deliver this process over 1-2 days to a group of people for education.
Webinar
We can deliver online webinars to cut down on travel.
Mentoring
We start with a workshop and work through each area step by step.
Develop
Develop a Digital Marketing plan and run with it.
Implement
Develop a Digital Marketing plan and assist in the implementation with your team.
.
Improve
Develop a Digital Marketing plan, implement and improve.
Remember, this is a Digital Marketing Strategy Framework Model and the detail that will emerge as a result of the process will guide your business to effective advantage in utilising the tools and resources available in the digital world."We are marketing and customer strategy consultants with a passion for profit and innovation."
E-commerce Guide – Digital Marketing Strategy Framework – Social Media Strategies